Description
"Summer Flush" by Mark Chester
Grey Partridges quickly  rise from cover on a late summer afternoon.
Originally self-published by the artist in a signed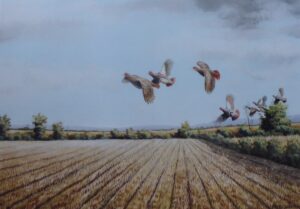 Limited Edition of 150 copies only. This, our last copy is number 6 of 150.
Visible Image 35cm x 25cm. Supplied cellophane wrapped in a Marbled Ivory mount 51cm x 41cm.